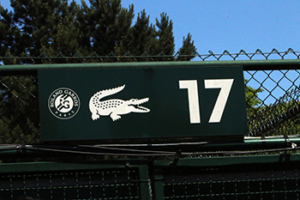 By JOHN MARTIN
PARIS – The French Tennis Federation has begun modernizing Roland Garros, the 92-year-old sanctuary of racquet combat that hosts the world's only Grand Slam tennis championship fought on clay.
Old sculptures have vanished and new buildings appeared, but one legendary player remains stitched to the fabric of the tournament
It is the legendary Rene Lacoste, whose 1920s rise to worldwide acclaim can be traced to a conversation with a Boston sportswriter .
Lacoste's name, image, and symbol – a giant crocodile – adorn billboards, court entrances, even baseline boxes that are said to shield the feet of line judges.
Hundreds of officials wear polo-style shirts bearing a white crocodile logo. The dozens of chair umpires wear them, too.
But few who wear the logo know how the improbable image of a reptile came to symbolize a French sporting culture that spread across the globe.
The story begins in 1923, when Lacoste played on the French Davis Cup team that lost to Australia in the Inter-zone final in Boston.
"I was difficult to beat, although not unbeatable," he told me in an interview for The New York Times in Paris in 1965.
"A tennis writer decided that I possessed some of the qualities of an alligator," he said. "He gave me that nickname."
The unnamed writer used the word alligator but today the French prefer crocodile, a more aggressive cousin.
"In those days we wore regular shirts with cuffs and collars," said Lacoste. "But one day I noticed that a friend, Lord Rocksavage, the Marquis of Cholmondeley, had worn his polo shirt while playing tennis. They were distinctive and I found that other players liked them too."
Lacoste began playing in polo-style shirts stitched with small alligator logos. It sparked a fad that ultimately led to a global transformation.
Beginning about 1925, however, his opponents began to dread the reptile. That year he won Wimbledon and the French championship, which was open to all comers for the first time.
The following year he won the United States championship, defeating countrymen Henri Cochet and Jean Borotra in the last rounds at Forest Hills.
In 1927, led by Lacoste, France won the Davis Cup for the first time, defeating Americans Bill Tilden and William Johnston in Philadelphia.
That same year, 90 years ago this summer, Lacoste defeated Tilden, 11-9, 6-3, 11-9, in the finals of the U.S. Championship. Many observers have called that match the finest display of tennis ever witnessed at Forest Hills.
In 1933, Lacoste and a friend started a sportswear clothing company.  By 1964, La Chemise Lacoste was selling "much more" than a million polo-style shirts a year in about  60 countries, according to Bernard Lacoste, his son and the company president.
Today, according to its website, Lacoste employs about 1,000 people from its Paris headquarters, not far from Roland Garros.
A week ago, as crowds surged onto the grounds of Roland Garros, they spotted a raised platform between the Philippe Chatrier and Suzanne Lenglen stadiums.
Atop the platform, sales clerks patrolled what amounted to a Lacoste shrine. To be sure, a crocodile image presided over racks of clothing and caps for sale at handsome prices.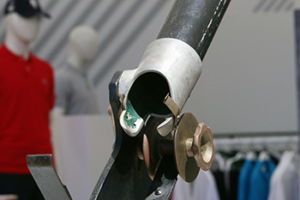 But not all was commerce.  Company scholars had assembled an archive of rackets (he invented one of the first metal rackets, the wildly popular T2000, in 1965). There were books and photos as well as diagrams and an early ball machine he created.
A giant panel told the history of the 1923 alligator logo. In stirring terms, it cited Lacoste's  tenacity and credited "an American journalist" for "baptizing" him for his wide-ranging court coverage.
As tens of thousands of people passed the display, many wearing polo shirts with various logos, it was hard not to think back in time to a Boston sportswriter and a French tennis player,  a moment that helped spark a worldwide phenomenon.