A MASTER REPORTER'S RIDE ACROSS JOURNALISM, SPORT, AND LIFE
By JOHN MARTIN
September 2017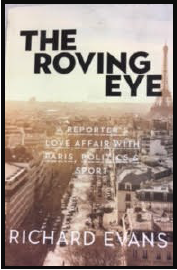 One afternoon in late August, Richard Evans emerged from a USTA shuttle bus and walked about 100 yards to the South Gate of the U.S. Open Tennis Championships in Flushing Meadows, N.Y.
     In an age where many of the world's sportswriters dress in polo shirts, khakis and sandals, Evans wore a collared shirt, a sports coat, creased dress slacks, socks, and leather shoes.
       At the entrance, he lifted a leather briefcase to a table for inspection, then passed through a metal detector and offered his press badge for a burst of laser light.
     As soon as his image appeared on the inspector's screen, Evans stepped inside the Billie Jean King National Tennis Center and strolled toward the Arthur Ashe Stadium on his way to a desk in the Bud Collins Media Center.
     Spectators swirling around him had no hint they were passing someone who knew King, Ashe, and Collins and virtually all the marquee tennis icons adorning banners and plaques on the grounds.
     Born in Paris of an American father and English mother, Evans is tall and erect at 78, a journalist and historian whose action-filled life of observation and writing stretches back well into the 20th Century.
    In the summer of 1960, Evans, a 21-year-old London Evening Standard writer, began reporting  from courtsides, locker rooms and barrooms on virtually every important aspect of tennis as it accelerated into the modern era from its modest beginnings in the 19th Century.
     His very first task that June was to write an analysis of Wimbledon's matches to appear under the byline of Althea Gibson, the 1957 and 1958 women's champion. Ghostwriting of this sort was a longstanding practice in British journalism, Evans reports in his latest book, The Roving Eye.
     "Althea was perceptive and articulate and I wrote fast so there was no problem on that score," he recalls of his arrival in a world to which he was completely new.
      To his delight, the quality of his words raised the level of his recognition.
     "Even though this was writing for someone else, I was no ghost," he writes. The Evening Standard carried a front page piece on the first day at Wimbledon 'By Althea Gibson with Richard Evans.'"
     "It was my first piece of writing on tennis. Little did I know where it would lead!"
       What he saw and how it unfolded is the subject of a remarkable work, his 19th book, according to a capsule biography on the website of The Tennis Channel, where he works.
     Tracking his movements from a book of clippings and a vivid memory, Evans invites us to step with him from a tennis universe populated by a parade of athletes, journalists, promoters, and agents into a multi-billion-dollar, multi-headed galaxy straddling the fields of racquets, sportswear, sports medicine, fitness, product endorsements, multimedia advertising, and, yes, gambling.
     In the 1960s and 1970s, Evans reports, journalists were "part of the scene" of tennis.
     "Those of us who traveled the tour, traveled with these guys, we had dinner together every night," he said in an interview.
     In 1971, "When Bjorn (Borg) got his coach, Lenart Bergelin, that was the first coach on the tour. There were no coaches on the tour, so we got very close to the players."
     Of special interest, Evans and Arthur Ashe grew close, sharing two trips to Africa, which he reports in revealing detail, a critical moment foreshadowing today's diverse tennis universe.
      Elsewhere, Evans reprises events from covering the 1968 opening to professionals ("Open Tennis") and the 1973 men's boycott of Wimbledon, when players grabbed the reins of power.
     Over the years, as he shifted from covering sports to general news and back, there were detours to foreign correspondence that led Evans to cover American politics, encounter Bobby Kennedy and Richard Nixon, and report the Vietnam War.
     But always, Evans writes in Roving Eye, there was tennis to cover — sometimes amid historic calamities. Here his talent for analysis is evident:
     "Tennis was in political turmoil in 1972," Evans writes, "but it mattered little compared to what was happening at the Presidential level in America, where the Vietnam War continued to tear the country apart. The Democrats needed to produce a powerful alternative to Richard Nixon if they were to unseat an unpopular but politically shrewd President, but with Robert Kennedy dead and Ted Kennedy unwilling to run, they never found one."
     How did Evans tend to his duties in two different realms? The answer, he describes in hilarious detail, was "fast footwork."
     "We worked out a deal (in 1972) whereby I would spend a few weeks in New York and Washington, return for Wimbledon, and then hot-foot it to Miami in time for the Democratic gathering which was due to start the following week.'
     But there was a hitch, the Wimbledon finalists, Stan Smith and Ilie Nastase, refused to cooperate, that is, their match ran into a fifth set.
     "I was booked on a 6:30 pm Pan Am flight out of Heathrow that evening," he recalls, "The last moments of the match remain a blur."
     What Evans remembers is a classic dilemma known to all reporters who work on tight deadlines.
     "I was trying to calculate the timing. What was the last moment I could leave? Come on,  Stan, finish this thing! Eventually, I knew I had to go."
      Rather than divulge Evans's solution and spoil it for the reader, let it be understood that it involved a speedy red sports car, two girlfriends (one on each side of the Atlantic), a fellow journalist, and a last-minute seating on a Boeing 747.
       What is remarkable about a man who could switch from forehands to filibusters is his style of expression, a style that stood apart from the work of his competitors.
     An online search reveals that in 1982, the Virginia Quarterly Review assessed the state of tennis writing. A scholar, Burling Lowrey, placed Evans among the eight finest writers in describing match play.
     Evans's peers, wrote Lowrey, reaching back many years, included Allison Danzig and Fred Tupper, writing for The New York Times; Al Laney, who wrote for The New York Evening Mail and New York Herald Tribune; Herbert Warren Wind of The New Yorker, and Barry Lorge of The Washington Post and The San Diego Union.
      "The experienced British trio of Lance Tingay (1915-1990), Rex Bellamy, and Richard Evans would also have to be included in this select company," wrote Lowrey.
     "These are the aristocrats of the profession," he continued. "They approach tennis with the single-mindedness and zeal of scholars and are capable of describing matches with the verbal virtuosity of poets."
    How did Evans learn his craft? He joined  a newly formed London sports agency for his first professional stint. Assigned to cover a major football, cricket, or rugby match, he was ordered to write original reports for several publications all within the same deadline times.
     "It was the best journalism school in Britain," Evans says. "It was unbelievable because you'd have to go to a football match at 7:30 at night, and write 300 words for The Times, and 250 for the North Hampton Chronicle, and 300 for the  Daily Express, and you had to do it, write it out, phone it in, within an hour of the final whistle."
     The strain of observing, composing, and dictating all under pressure paid a dividend,.
     "After you did that," Evans explained, "you could do anything."
     The Roving Eye contains little sermonizing. Evans chooses instead to produce an account of events he witnessed as historical record.
     "I haven't used it as a platform," he said, " I haven't really. You probably know me, I can really lay down some pretty strong opinions. But I haven't used it as that."
     Instead, he said, "I've just told a story."
     What Roving Eye doesn't say about the way professional sports has grown Evans discussed in an interview with World Tennis Gazette.
     "I have this opinion that 75 per cent of the world's sports administrators are either corrupt or very incompetent," he said. "So many sports are badly run. Look at soccer, look at the Olympics, just horrendous.
     "By those standards, which isn't very high, tennis is pretty well run. It's not in any way perfect because it's got too many constituencies."
     What does tennis need to solve its problem? "Get an administrator. Get a commissioner. Have one person in charge of Tennis Inc.
"If you want to do something for the game of tennis, who do you go to? You need a central office, but all the constituents are so scared of losing their power, and their identity,  they won't come together for the good of the sport.
     "Having said that, I think the ATP now has a good leader, in Chris Kermode, and it's pretty well run. They're open to new ideas.."
       Sage words from a master reporter.